Moving to the Farm
Albert was over 3 ½ years old when Woodrow returned from the war and Mary Ellen was 10 months old. Woodrow returned after the war in Europe had ended in May of 1945 but before the war in Japan had ended so tragically with the explosion of atomic bombs on Japan at Hiroshima. We know a lot of American lives wee saved by shortening the war, but many Japanese civilians were lost and maimed for life, including women and children. Nuclear warfare is still much feared the world over, but still some countries continue to build up their "war power" that way.
Both of the children seemed to instantly know their father. Albert picked him out from a group of soldiers who came in on the same bus with him. It had been 18 months since Albert had seen his dad, but one would never have known it. Mary Ellen let him take her immediately, which was strange, as she was wary of all strangers and definitely afraid of most men.
The days following Woodrow's return were a rather unstable time. Many decisions had to be made. For a short period Woodrow worked at a glass shop in Ottawa, but when August came, we sold our house, then left for Washington State where Woodrow harvested apples in the Yakima Valley. He had been there during the war, so it was something he knew how to do. But Woodrow had taken a civil service test before the war and he was given an opportunity to take a job in the U.S. Postal Service, so we came back to Kansas and he began his work in the Kansas City Post Office sorting mail. It wasn't long until he became a railway mail clerk. Most of the time he sorted mail on a Missouri Pacific train, but some on the Santa Fe. By Christmas time, we had bought a house in Kansas City, Kansas, where we lived for 2 ½ years. After that, we moved to the farm where we were to spend the next 40 years plus.
During the years we were in Kansas City, Albert started to school—a year of kindergarten and a year in the first grade. On July 20, 1946 Allen was born. It seemed like allen had "something wrong with him" most of that first six months. Colic first, then an ear infection, but after that he was a small, but wiry, child. Mary Ellen watched him like a mother hen to see he didn't come to harm even though he was born in July before she was two in September. All three children had chicken pox in that period and Allen had scarlet fever. The two older ones had had scarlet fever when I was in Ottawa during the war and Woodrow was overseas.
On Memorial Day of 1948 we moved to the farm and although it was an old run down farm to begin with it became home to us. Woodrow spent many hours improving it—new fences, controlling weeds and shrubs in the pastures and reseeding all of it, building ponds and terracing. He had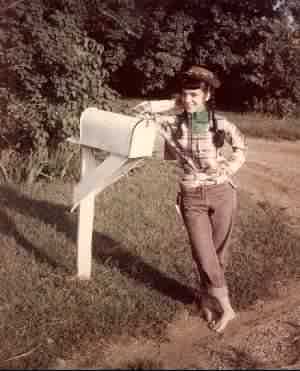 electricity put in the house before we moved in and soon (before another year) installed a water system. In anther year we had a sewer system and indoor bathroom. He tore off all the old plaster and put up plasterboard walls and did a general re-arranging of the rooms. Every minute of Woodrow's life away from his work as a railway mail clerk was spent improving our farm. He enjoyed clearing our timber and using the wood he cleared away to heat our home. We put in a furnace in the ½ basement under the house which he had finished, new cement floor and pointed up the walls. The house, although nearly 100 years old, was well built of good material. He used the old flooring as subflooring and put hardwood floors in all the rooms. In the basement he put me in shelves to store my canned fruit and vegetables. There were several kinds of fruit trees on the place including an apple orchard and peach trees. We added to it over the years and put out a couple rows of grapes. We always planted "enough potatoes to do us" through the year. I tried to can 100 quarts of green beans and one hundred quarts of tomatoes and lots of peaches and apples. With in a few years we got a freezer so I froze my peas and corn and also had our meat (beef) butchered for the freezer. We also raised chickens some years. For a number of years we milked a cow, but homogenized milk from the store was so good and stayed fresh so long that we gave up milking our cow. I always made lots of jams and jellies. I really enjoyed it. the children all attended Oakland Grade School. Sometimes they walked (especially Albert in the first couple years) but when Mary Ellen started, a good bit of the time I car-pooled with Kathleen Howell and we took them. The children had some really good teachers in that little one-room school and they were all ready when the time came for them to go to High School. When Allen was ready for the seventh grade and Mary Ellen was in High School, Oakland School closed. One-room schools were rapidly becoming history and schools were consolidating. Albert had already been going to Pomona High School on the school bus. The other two now made an easy transition.
(About the time Albert started high school my folks moved to Pomona. They had lived on a farm just north of us. They sold it and bought a house in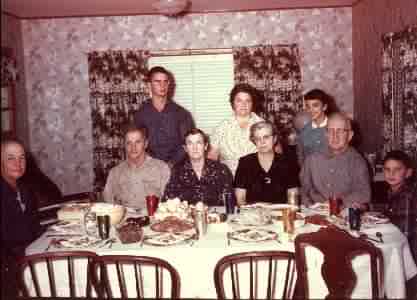 Pomona. My mother died when Albert was a senior and my dad lived 2 ½ years after that. My dad had had Alzheimer's for several years and spent nearly all the time after my mother died in a nursing home.) Albert and Mary Ellen were class valedictorians and Allen was near the top. Allen graduated with a group of exceptionally smart children and they were a good percentage of them boys. So many of them went on to graduate from college. I really can't remember just how many, while Albert and only one other from his class went to college and not very many from Mary Ellen's.
lots of little stories can be told about the happenings in the children's growing up years. But maybe I can write them down later.
Albert went to Emporia State, Mary Ellen went to Emporia State and Allen went to Kansas State. Albert graduated in three years from Emporia State and started teaching. In a couple years he married Nina Jean Whinery and our first grandchild, Lisa, was born in December 1965. Mary Ellen graduated from Emporia three years later and Allen from Kansas State in two years after that. Allen married Priscilla Miller his junior year of college and our second grandchild, Timothy, was born in 1967. After he graduated from college in 1968 he moved to Pittsburgh, Pennsylvania and started working for PPG Industries and two years after Timothy was born our third grandchild, Christopher, was born.
Mary Ellen had gone to Wellsville when she graduated, but a year later she went to Manhattan where she taught several years before she married in 1971. She married Harold Kline then and continued to teach in Manhattan until Harold graduated from Kansas State. Harold had gone to college one year and then spent three years in the army before continuing college. He became a district soil conservation supervisor. Their only child, Mindy, was born in 1978.
Allen's first marriage lasted only five years and in 1972, he married Laraine Piedle. They had three children—Jane (1977), Ann (1980), and Robert (1982). Mostly they have lived in Pittsburgh, Pennsylvania, but the last three years they have moved to the Kansas City area where Allen heads up the LYNX Corp. a division of PPG Industries.
Woodrow, after our three years of living in Kansas City continued to be in a Railway Mail Clerk until near the time of the ending of the Railway Mail Service which gave way to airmail and big truck service. He spent the remaining years as a rural mail carrier out of the Pomona Post Office until his retirement June 30, 1973.

---
Pictures
Albert Crawford (left) and brother Allen in the apple orchard.
Mary Ellen Crawford taken before her high school initiation. Taken in September, 1957?
Thanksgiving day in 1958 at Woodrow & Leona Crawford's home. Sitting, left to right: Clyde Rice (Jesse's cousin), Jesse Rice, Cathrine Rice, Almira Shuler (Cathrine's sister), George Shuler, Allen Crawford. Standing, left to right: Albert Crawford, Leona Crawford, Mary Ellen Crawford. Woodrow Crawford took the picture.